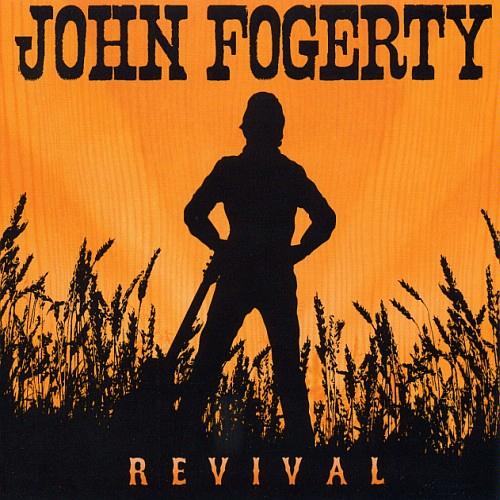 John Fogerty - das achte Album
Revival ist ein Studioalbum von John Fogerty, veröffentlicht am 2. Oktober 2007 und bis dahin sein erstes neues Album seit drei Jahren. Es ist auch das dritte Album (die ersten beiden waren Zusammenstellungen und Live- Alben) seit Wiedereintritt der Plattenfirma Fantasy Records. Das Cover erinnert an das Design der Silhouette des ersten Solo Albums The Blue Ridge Rangers. Die erste Single aus dem Album war "Don't You Wish It Was True" Das Album enthält zwei Kriegsprotestsongs : "Long Dark Night" und "I Can't Take It No More", die sich beide gegen die Bush-Regierung und den Irak-Krieg richten. Der letztere Song enthält einen Text, der angelehnt ist an seinen legendären Hit mit CCR "Fortunate Son". Ein weiterer Song, "Summer of Love" ist eine Hommage an Cream und Jimi Hendrix und beinhaltet ein musikalisches Zitat aus "Sunshine of Your Love". "Creedence Song" bezieht sich auf den Swamp-Rock Stil von CCR.
Das Album stieg auf Platz 14 der US Billboard 200 Charts. In der ersten Woche wurden rund 65.000 Exemplare verkauft. Es erhielt eine Grammy Award Nominierung für das beste Rock Album des Jahres 2008, der Grammy ging aber an Foo Fighters 's Echoes, Silence, Patience & Grace . Das Album erhielt Platz 11 in der Liste der Top 50 Alben des Jahres 2007 des Rolling Stones Magazin. In der gleichen Zeitschrift wurde das Lied "Gunslinger" an Nr. 12 in der Liste der 100 besten Songs des Jahres 2007 geführt.
Musiker/Produktion:
John Fogerty: vocals, guitar, lyrics, arrangement, production
Hunter Perrin: guitar
David Santos: bass guitar
Kenny Aronoff: drums, percussion
Benmont Tench: Hammond B-3 organ (on "Natural Thing", "River Is Waiting" and "Somebody Help Me"), Wurlitzer electric piano (on "River Is Waiting" and "Somebody Help Me")
Julia Waters, Maxine Waters, Oren Waters: backing vocals (on "Don't You Wish It Was True", "River Is Waiting" and "Longshot")
Arranged and produced by John Fogerty
Written by John Fogerty (Shaty Kelyn Music – BMI)
Recorded by Jim Scott, Seth Presant and Ryan Freeland Recorded at NRG Recording, North Hollywood, CA; G Studio Digital, Studio City, CA; and Soundstudio, Lowengasse, Frankfurt, Germany Assistant engineers : Keven Dean, Dave Colvin
Mixed by Jim Scott and John Fogerty
Mastered by Robert Ludwig at Gateway Mastering, Portland, ME
Quelle: Wikipedia