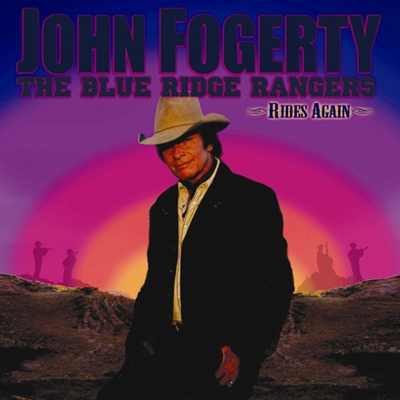 John Fogerty - das neunte Album
The Blue Ridge Rangers Rides Again ist ein Studio-Album des amerikanischen Rock Singer-Songwriter und Gitarristen John Fogerty, veröffentlicht am 25. August 2009 auf seinem eigenem Label Fortunate Son Records und vertrieben von Verve Forecast Records. Der grammatische Fehler in dem Titel des Albums (das Verb "Rides" sollte eigentlich "Ride" sein) ist eine Anspielung auf die Tatsache, dass das erste im Jahr 1973 veröffentlicht Soloalbum Fogerty's The Blue Ridge Rangers der gleichnamigen Band zugeordnet wurde da sich auf dem Cover kein Hinweis auf Fogerty's Beteiligung fand, er auf diesem Album aber alle Instrumente selbst spielte und alle Vocals von ihm stammten.
Das Album wurde im Village Recorders in Santa Monica, Kalifornien in einer 10-Tage-Session aufgenommen.
Musiker/Produktion:
Arrangiert und produziert by John Fogerty
Buddy Miller: electric guitar, acoustic guitar - Kenny Aronoff: percussion, drums - Greg Leisz: steel guitar, lap steel, dobro, mandolin - Jay Bellerose: drums - Jason Mowery: fiddle, dobro, mandolin, back vocals - Herb Pedersen: back vocals, harmony vocals - Jodie Kennedy: back vocals, harmony vocals - Oren Waters: back vocals - Chris Chaney: bass - Dennis Crouch: bass - Hunter Perrin: fingerstyle guitar, electric rhythm guitar
Executive Producer: Julie Fogerty
Associate Producer: Lenny Waronker
Mix-Ingenieur: Bob Clearmountain
Mastering: Bob Ludwig für Gateway Mastering Studios Recording
Engineers: Mike Piersante, Bob Clearmountain, Kevin Harp, Brandon Duncan, Ryan Freeland, Toby Scott und David Colvin
Art Direction: Julie Fogerty und Geoff Gans
Package Design: Geoff Gans und Julie Fogerty
Fotografie Credits: Julie Fogerty, Wayne Stambler, Geoff Gans und Bob Fogerty
Vertrieb: Universal Music Vertrieb
Quelle: Wikipedia